7 May 2013
Researcher at Department of Anthropology appointed Associate Editor of BioSocieties
From May 2013 Ayo Wahlberg, Department of Anthropology, University of Copenhagen, will be Associate Editor of the Palgrave Macmillan journal BioSocieties, which is focused on interdisciplinary social studies of life sciences.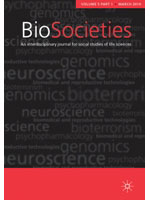 About BioSocieties
BioSocieties is committed to the scholarly exploration of the crucial social, ethical and policy implications of developments in the life sciences and biomedicine. The journal is interdisciplinary and international in scope, spanning research and developments in all corners of the globe.

BioSocieties defines the key intellectual issues at the science-society interface, and offers pathways to the resolution of the critical local, national and global socio-political challenges that arise from scientific and biomedical advances.

BioSocieties is published quarterly, with occasional themed issues that highlight some of the critical questions and problematics of modern biotechnologies. The journal is indexed in the Social Sciences Citation Index ranking 19th of 37 in the Social Sciences, Biomedical category with an impact factor of 1.256.

The main editors of journal are renowned scholars:
Adele Clarke, Department of Social Behavioral Sciences, University of California, SF, US.
Nikolas Rose, Department of Social Science, Health and Medicine, King's College, London, UK.
Ilina Singh, Department of Social Science, Health and Medicine, King's College, London, UK.
Associate Editor job responsibilities
As Associate Editor Ayo Wahlberg will be responsible for the oversight of peer review in conjunction with the Editors and other Associate Editors.

- Over the last years, BioSocieties has become a vital journal for scholars working at the intersections of the social and life sciences. Contributors bring engaged empirical attention to the ways in which developments in the biomedical and biological sciences are impacting on our lives throughout the world. I am therefore very excited to have the opportunity to join the BioSocieties team as Associate Editor, says Ayo Wahlberg.

Go to the website of Palgrave Macmillan to read more about BioSocieties.