18 July 2013
Social Fabric research project
The overall Social Fabric project
The Departments of Sociology and Anthropology have recently become part of the cross-faculty Social Fabric research project, financed by a grant from UCPH's 2016 Fund.

Prof. David Dreyer Lassen from Department of Economics is Principal Investigator (PI) of the overall project, which has a total budget of app. 2.25 million Euros. The Departments of Sociology and Anthropology will each receive app. 200.000 Euros until 2016.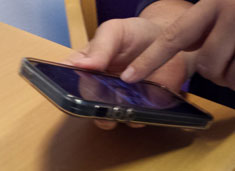 New understandings of social networks
The overarching goal of the interdisciplinary project is to push the current boundaries of quantitatively as well as qualitatively based understandings of social networks.

This is achieved by measuring and utilizing a new source of data – the social fabric – which consists of almost continuous recordings of social interactions at all communications channels, for a larger group of people than has ever been attempted before (more than 1000 participants). In the context of the project, data will be used to study:
How information and influence is transmitted and transformed in the social fabric
How friendships, networks and behaviours form, offline and online
How the researchers themselves go about studying 'big data' and handling issues of research ethics and data privacy
Harvesting data from smartphones in a freshman class
The project employs smart phones as novel measurement devices (so-called 'sociometers') with a view to digitally map out the complete social network of an entire freshman class at the Technical University of Denmark (DTU), including face-to-face encounters via bluetooth, geolocation proximities via GPS, social network data via apps, and telecommunication data via call logs.

Simultaneously, researchers from various disciplines partaking in the project will observe, track, and plot different components and dynamics of the social fabric through the application and combination of more established social-scientific methods ranging from participant-observation to questionnaires and surveys.

Data collection will commence in September 2013, which also marks the establishment of a new cross-departmental research centre provisionally called Copenhagen Center for Computational and Experimental Social Science (CCCESS) at CSS.
The sociology-anthropology (Ant-Soc) inquiry
Morten Axel Pedersen, Professor at the Department of Anthropology, and Anders Blok, Assistant Professor at the Department of Sociology, are in charge of a joint sociology and anthropology ("Ant-Soc") work package, in addition to partaking in the Social Fabric steering group in collaboation with the other PIs from the project.

Apart from conducting their own invididual and collective research projects, Morten Axel Pedersen and Anders Blok will employ a PhD fellow each at their respective departments. The two new doctoral students will commence work in August 2013, and are expected to work closely together with one another and with other members of the interdicsiplinary project team from UCPH and DTU.

The Ant-Soc work package
The objective of the Ant-Soc work package is to explore the following interrelated research topics and methods:
Social network analysis: How can theories of social network effects be used to explain quantitative patterns of observed behaviour, e.g. in terms of friendship formation or educational outcomes?
Ethnographic fieldwork: How may the ethnographic study of friendship and other social relations amongst university students enrich or challenge computational approaches – and vice versa?
Quali-quantitative methods: Does the rise of computational social science lead to a reconfiguration of the traditional split between quantitative and qualitative research methods?
Big data experiments: What kinds of anthropological and sociological experiments does the Social Fabric enable, and how might such innovations enrich existing scientific experimental designs?
Social life of 'big data': What new ethical, political and organizational challenges and opportunities does the rise of large-scale digital trace databases pose to the social sciences and society generally?
Research collaboration: Taken as an object of science studies (STS), what may be learned about dynamics of cross-disciplinary research collaboration from the Social Fabric experiment itself?
Overall, these questions and themes will be pursued in close dialogue with researchers from other disciplines at UCPH and DTU and other relevant institutions and partners in Denmark and abroad, with the overarching ambition of contributing to the rapidly developing cross-disciplinary fields of computational, digital and experimental social science, along key debates in sociology and anthropology.
Computational social science
Computational social science is an emerging field of interdisciplinary inquiry, which seeks to leverage increasing capacities to collect and analyze large-scale social data from the digital traces left by e-mails, mobile phones, social media etc.

The term 'computation' refers to the use of advanced computer algorithms and models to search for network patterns in social data with an unprecedented breadth, depth and scale.