Courses
Choosing courses in advance
When applying to become an exchange student it is often required of you to make a study plan and choose the courses you would like to study, if you are admitted.
If you have to make your study plan before the courses for the next semester is published, you have to choose based on courses offered regularly (se the bottom of this page) for the purpose of your application. Once you the new list of courses is advertised, you can adapt your choices to the available courses. 
Choosing courses
Students who enter the Faculty of Social Sciences through an Erasmus or a Nordplus exchange agreement held by the Department of Anthropology must earn a total of 22,5 ECTS per semester at the Department. Likewise, incoming Erasmus and Nordplus students who study at more than one Department at the Faculty of Social Sciences must earn a total of 30 ECTS credits per semester at the Faculty. Any exemptions to above rules are at the sole discretion of the international coordinator at the Department, Atreyee Sen.
If you wish to take courses at other departments at the University of Copenhagen, you should find the guideline on how to become an exchange student at the relevant department. Here you can find all the departments at the University of Copenhagen.
Course registration
Update May 2020:
Due to Covid-19, the sending out of admission letters to incoming exchange students this autumn is delayed. You are therefore not able to apply for courses within the given deadline. Please send your course registration as soon as you have received your letter of admission and do not worry - we will process your application form even if it is received late.
The deadline for registration is 1 June for the autumn semester and 1 December for the spring semester. Registration after these deadlines is possible for exchange students but the chances of getting into the courses are reduced.

Exchange students register for courses by filling out the course registration form and mailing it to exchange@anthro.ku.dk. Read more about the procedure in the course registration form.
Download the course registration form by clicking this line.
Courses available at the Department of Anthropology
You can find a list of upcoming courses offered for exchange students at www.kurser.ku.dk. The courses held at the Department of Anthropology are published 1 May at:
Please note that before 1 May the links refer to courses being taught this and the previous semester. 
Exams
When you are signed up for a course, you are also automatically signed up for the exam. You can find the exam dates for upcoming exams here:
Students in class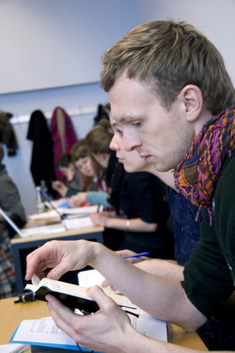 Students working at campus