Anthropological studies
The University of Copenhagen features among the top 100 Universities for Social Science by the Times Higher Education List and is within the top 10 in Europe on the Shanghai List. With 25 PhD students and an academic staff of 25 our Department of Anthropology is one of the largest of its kind in Europe.
The Department of Anthropology offers a Master in Anthropology. Anthropology offers two specialisation tracks for the Master's Degree: specialisation in Business and Organisational Anthropology, and specialisation in Anthropology of Health. The specialisation tracks are an opportunity to have a more targeted profile for your degree program and your Master's diploma.
Each semester we welcome between 60 and 70 international students (guest students and exchange students) who enrol for courses at our Department.
Please note that as of the 1st of September 2014 the will be a limit to the number of admissions for the Master in Anthropology. There will only be admitted 105 students per year. Applicants will be selected based on their motivated applications, academic capabilities, as well as language skills (for English speaking students a Toefl test is a requirement).
Students listening in class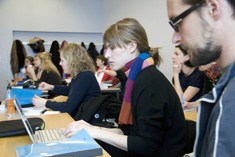 The study administration is closed for the summer in July.