Credit Students
Credit studies are an option for students who are enrolled at other departments at the University of Copenhagen or other institution of higher education in Denmark. In order to be accepted as a credit student you must obtain a pre-approval from the department or institution you are enrolled at. A pre-approval document that the courses you attend at Department of Anthropology can be transferred to the study you are enrolled at.
Admission
You can apply to courses at the Department of Anthropology as a credit student every semester. For courses in the fall semester the application periodis 1 May - 1 June and for courses in the spring semester the application period is 1 November - 1 December.
You have to use the application form which can be downloaded here. (Link is only active during the application period).
Courses
At Department of Anthropology you can choose to study single courses or entire semesters.
Every semester, a range of courses are held in English. Some of them are repeated every year, other thematic courses are new and given only once. The list for such courses is updated in November for the upcoming spring semester and in early May for the upcoming fall semester. You can find descriptions of the courses available in the course catalogue through the following links:
If you have problems finding the courses please contact Student Services.
Students writing in class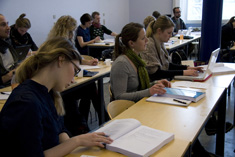 Welcome meetings
All credit students at the Department of Anthropology are invited to participate in the welcome and information meeting.
Next meeting: to be updated
Notification in advance is not necessary, but the Student Advisory Service strongly recommends everyone to participate.