20 June 2023
The "Transnational Business of Death" Among Somali Migrants in the Streets of Athens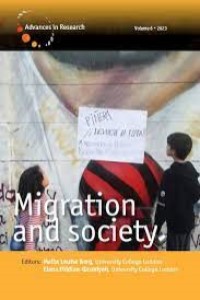 Assistant Professor Anja Simonsen has published the article 'The "Transnational Business of Death" among Somali Migrants in the Streets of Athens' as part of a special issue in Migration and Society on 'Transnational Street Business'.
The article explores the tragedies of migrant deaths by proposing the concept 'transnational business of death'. The concept refers to how when such tragedies happen, a border-crossing social network of brokers, fellow travellers, acquaintances, family members and friends of the deceased engage in a 'transnational business of death' involving exchanges of money, things, information and rumours.
Based on ethnographic fieldwork among Somali women and men from 2013 to 2016, this article provides an intimate look into how the death of one Somali women was dealt with on a particular street and in a corner café in a part of Athens, Greece, where the majority of the Somali migrants that Simonsen met were located. It was on this street that phone calls were made to near and far, and where people would exchange rumours and money.
The article argues that an informal economy arises as a reaction to the lack of legal, formal support from the Greek nation state when it comes to dealing with the deaths of loved ones among undocumented migrants, highlighting the precarious positions of migrants en route.
The article is open access and can be found at Berghanh's website.
Topics