20 February 2023
This Land Is Not For Sale: Trust and Transitions in Northern Uganda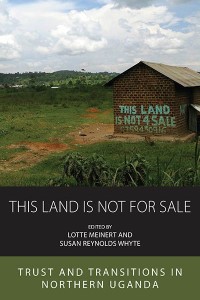 Together with Lotte Meinert, Professor Susan Reynolds Whyte has co-edited and co-written the book This Land Is Not For Sale: Trust and Transitions in Northern Uganda, recently published by Berghahn Books in the series Integration and Conflict Studies.
Although violent conflict has declined in northern Uganda, tensions and mistrust concerning land have increased. Residents try to deal with acquisitions by investors and exclusions from forests and wildlife reserves. Land wrangles between neighbours and relatives are widespread - the growing commodification of land challenges ideals of entrustment for future generations.
In this book, collaborating researchers from Uganda and Denmark analyse the principles and practices that shape access to land.
Through extended case studies and illustrated vignettes, the contributors start close to the ground with specific and concrete examples. From these, they generalize and abstract to consider wider issues of trust and relations around land.
Contributors examine the multiplicity of land claims, the nature of transactions and the management of conflicts. They show how access to land is governed through intimate relations of gender, generation and belonging. And they demonstrate how divergent imaginations of development underlie many of the tensions around land.
The book is available open access here: This Land Is Not For Sale: Trust and Transitions in Northern Uganda | BERGHAHN BOOKS
Topics