21 August 2013
Book with contributions from Department of Anthropology: "Farmers' Choice"
- Evaluating an approach to agricultural technology adoption in Tanzania

Book edited by Helene Bie Lilleør & Ulrik Lund-Sørensen, The Rockwool Foundation Research Unit, Practical Action Publishing, 2013.

Contributors from the Department of Anthropology:

- Chapter 3: "Evaluation methods" coauthored by Steffen Jöhncke
- Chapter 4: "The context for RIPAT: taking regional history and development policy into account in the interpretation of project processes and success" by Quentin Gausset Steffen Jöhncke, Eva Kaas Pedersen and Michael A. Whyte
- Chapter 7: "Household dynamics and gender politics: female farmers in RIPAT 1" by Hanne O. Mogensen and Eva Kaas Pedersen
- Chapter 8: "The RIPAT groups" coauthored by Eva Kaas Pedersen
- Chapter 9: "Local adoption of social and agricultural technologies" by Quentin Gausset
- Chapter 10: "Social constraints on the adoption of improved banana varieties in Arumeru District" coauthored by Quentin Gausset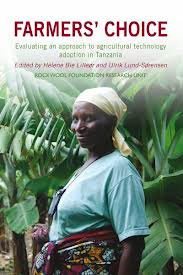 Innovative project in Tanzania evaluated by department staff
Since 2006, the Danish Rockwool Foundation has financed the implementation of an innovative agricultural project among small-hold farmers in Northern Tanzania. In co-operation with the Foundation's research unit, five researchers from the Department of Anthropology have conducted a qualitative evaluation study of the process and results of the project.

Beneficial outcomes
The evaluation shows a range of beneficial outcomes, not least related to the flexible implementation work done by 'Recoda', a local NGO. The results of the evaluation are presented in the book Farmers' Choice, published by Practical Action Publ. in London.

Press conference, 27 August 2013
The book is also presented at a press conference 27 August 2013 at 2 pm in Copenhagen. Please contact the Rockwool Foundation Research Unit for further details – tel. (+45) 3334 4800.