26 June 2013
PhD dissertation: "Evasive Politics"
- Paradoxes of History, Nation and Everyday Communication in the Republic of Georgia

PhD dissertation by Katrine Gotfredsen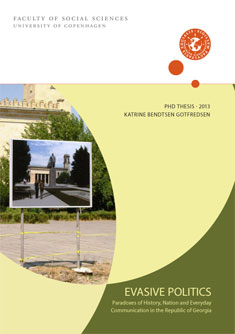 Georgian politics and Stalin
The dissertation examines formations of the political in the Republic of Georgia. Based on ethnographic fieldwork in the provincial town Gori, birthplace to Joseph Stalin, it departs from the contested and ambiguous nature of the former Soviet leader as a:
Political figure

Historical figure
Moral figure
Paradoxical everyday perceptions
In an effort to trace formations of political practice across societal scale Katrine Gotfredsen examines and analyses:
The town's Stalin Museum
Post-communist nostalgia
The Georgian banquet
Suspicion and uncertainty connected to socio-political realities
In doing so, the dissertation empirically describes how formal political institutions and policies, including their rhetorical presentation to the public, intersect with everyday perceptions, social norms and rationales and often, in the end, produce counter-intuitive and seemingly paradoxical outcomes.

Dual politics
Katrine Gotfredsen argues that while certain elements of Georgian politics are exceptionally articulated and visible, what is most explicitly signified and performed may not always be, in itself, that which holds the greatest political potential.

Rather, based on the empirical cases, the dissertation proposes that the political assume a particular dual form that may be conceptualised as "evasive" – oscillating between presence and absence, visibility and invisibility, articulation and silence.

Evasiveness
Considering politics as evasive, Katrine Gotfredsen suggests, assists us in illuminating the political productivity of the apparently absent in various qualities and invites us to embrace the paradoxes producing, reproducing, and, now and then, changing political landscapes.
You can purchase the dissertation at Academic Books (academicbooks.com), Øster Farimagsgade 5, DK-1353 Copenhagen K.
The Republic of Georgia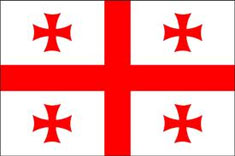 Country located in the Caucasus Region
Population of around 4.5 million
Territory of 69,700 km²
Part of the Soviet Union between 1921 and 1991
Semi-presidential republic with President Mikheil Saakhasvili being head of state and Prime Minister Bidzina Ivanishvili head of government.
Joseph Stalin
Born in Gori, Georgia, in 1878
General Secretary of the Communist Party of the Soviet Union from 1922 to 1952
Died in 1953
A recent poll from the Carnegie Endowment suggests that in spite of the atrocities and terror committed during his reign, he continues to enjoy respect and admiration among the public in parts of the former Soviet territory – notably in Georgia and Russia.