16 April 2013
PhD dissertation: "Shadow Soldiering"
- Mobilisation, Militarisation and the Politics of Global Security in Sierra Leone


PhD-dissertation by Maya Mynster Christensen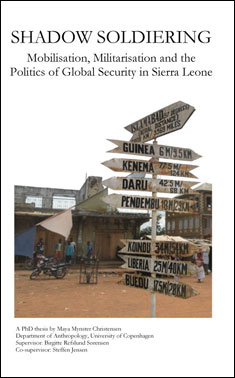 New constellations of soldiering
The thesis is an inquiry into what is at stake for a surplus population of militia soldiers in the aftermath of the civil war in Sierra Leone. The analysis takes its point of departure in how militarised networks are transformed and gradually morph into new constellations of soldiering.

The central question the thesis pursues:
How the processes of mobilisation connecting these constellations of soldiering are facilitated, and how the constellations are constituted in the intersections between local and global formations?
Processes of militarisation and security outsourcing
Based on extensive fieldwork in Sierra Leone between 2006 and 2012, the author traces a group of former militia soldiers released from prison after six years under 'protective custody' as they move, from the city to the borderland and to Iraq, to seize emergent opportunities for becoming a somebody.

'Constellations of shadow soldiering' is a notion being invoked to describe the processes of militarisation and security outsourcing in which these Sierra Leonean ex-militias engage. These constellations are configured by intersections between the politics of patronage and global security, and by interrelations between encampment, waiting, and movement.

Shadow soldiering in a global economy
The central argument of the dissertation is that such constellations are configured by different layers of invisibility/visibility, which produce tensions between secrecy and exposure, and between practices of revealing and concealing.

Shadow soldiering, it is argued, is not a phenomenon existing in parallel with, or in the margins of official political economies. Rather, shadow soldiering is a phenomenon that is becoming increasingly central in the context of security outsourcing and militarisation in a global economy, and therefore an urgent focus for ethnographic scrutiny.

The dissertation can now be bought at Academic Books, CSS, Øster Farimagsgade 5, DK-1014 Copenhagen K.