19 March 2013
Book chapters: "Education and violent conflict" and "Gendering violent conflict"
Chapters by Birgitte Refslund Sørensen, associate professor at Department of Anthropology.


In the anthology "Elgar Handbook of Civil War and Fragile States" (Edward Elgar Publishing. 2012, 596 pages), edited by Graham K. Brown and Arnim Langer.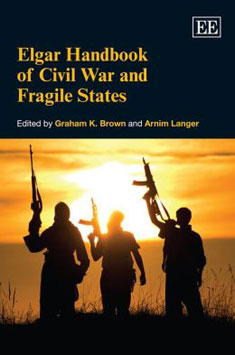 Education and violent conflict
In the chapter "Education and violent conflict", Birgitte Refslund Sørensen argues that education is a pivotal, but under researched dimension of contemporary violent conflicts, and that education and conflict are entangled in multiple ways that are essential for understanding the causes, dynamics and ramifications of violent conflicts.

The chapter discusses three alternative analytical perspectives on education;
the humanitarian
the conflict
the citizenship perspective 
Gendering violent conflicts
In the chapter "Gendering violent conflicts", Birgitte Refslund Sørensen challenges the generalizing portrayals of women that govern much policy-oriented work and calls for a more nuanced and dynamic understanding of gender roles and relations in the context of violent conflict.

This new approach pays attention to the fact that conflicts are embedded in global processes and acknowledges women's multiple roles in violent conflicts as victims, but also as perpetrators and complicit actors in militarization, or as actors in recovery, peace building, and societal and political transformation..
Book review
The book "is an impressive volume. Its distinguished contributors offer a rich menu of courses, ranging from conflict and war to peacemaking, transitional justice, peacekeeping and powersharing. Encyclopdic in its scope, the volume encompasses many different approaches to stimulate and provoke the careful reader. It serves up a feast for scholars and policymakers alike" – Donald L. Horowitz, Duke University, USA.

Read more about the book on the publisher's website.