30 December 2022
An Anthropology of Futures and Technologies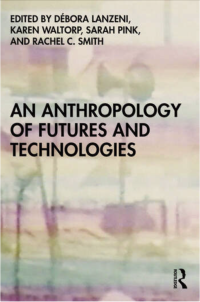 Associate Professor Karen Waltorp has co-edited the book An Anthropology of Futures and Technologies with Débora Lanzeni, Sarah Pink and Rachel C. Smith. Waltorp has contributed the introduction and in collaboration with Maja Hojer Bruun, Waltorp authored the chapter 'Drones as a gendered matter of concern'. The book will be released this December by Routledge.
Waltorp and Hojer Bruuns chapter 'Drones as a gendered matter of concern', elaborates on the use of drones in Denmark. The chapter builds on a collaboration with the Danish Ministry of Transport, University of Southern Denmark and Aalborg University.
In the book, the ten chapters tackle questions about the increasingly prominent roles that emerging automated technologies and systems play in our lives and our imagined futures. Indicating a way for future oriented anthropology, the release asks questions of how technological futures can be constituted? Which roles anthropologists play in the making of these futures and how they engage with technologies within their fieldwork? The volue ends with an afterword by Janet Roitman.
The release states the importance of how critical and interventional approaches to technology design and innovation are created, and how critical anthropology can offer new insights to the way technologies are experienced in daily life.
As a step in the examination of these questions, the book asserts that the discipline must find new ways to approach and engage in the dominant narratives of industry, policy and government. With ethnography as the foundation and through a public, vocal, and interventional approach, it is possible to respond to the contemporary challenges technologies bring.
The volume grows out of the Future Anthropologies Network under the European Association of Social Anthropologists convened by Karen Waltorp and Débora Lanzeni, read more: https://www.easaonline.org/networks/fan/
Preorder the book here: An Anthropology of Futures and Technologies - 1st Edition - Débora L (routledge.com)
Topics