30 December 2022
Energy Futures: Anthropocene Challenges, Emerging Technologies and Everyday Life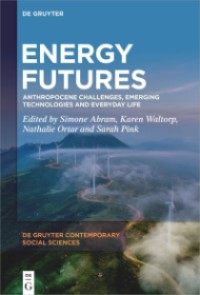 In collaboration with Simone Abram, Nathalie Ortar and Sarah Pink, Associate Professor Karen Waltorp has edited the book Energy Futures: Anthropocene Challenges, Emerging Technologies and Everyday Life.
Waltorp leads the section on 'Imagining energy futures beyond colonial continuation', and her empirical chapter examines energy futures far from Silicon Valley. The chapter relates to her DigiSAt project - a project supported by the Independent Research Fund Denmark. This is the project's first release
With empirical examples, new theoretical thinking and innovative methodologies as remote video and comic strips, Energy Futures critically evaluates how anthropologists can contribute to the understanding of energy futures.
The challenges emerging technologies, data analytics and data automation cause in everyday life, calls for a need to rethink approaches on how energy will be generated, stored, shared and used in the future. The many contributors to Energy Futures collectively explain how new knowledge about imagined and possible energy futures, can be mobilized with emerging technologies, anthropocene challenges and everyday realities.    
The newly released work is volume 10 in the series De Gruyter Contemporary Social Sciences. This book series showcases current events and provides an interdisciplinary platform for disseminating analyses of new theoretical, empirical or applied research across the social sciences and related disciplines. It appeals to energy engineers as well as to anthropologists.
Read more about the book on the publisher, De Gruyter's website: Energy Futures (degruyter.com)
Topics