26 September 2022
Managing Sacralities: Competing and Converging Claims of Religious Heritage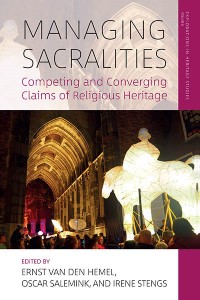 Professor Oscar Salemink has co-edited the volume Managing Sacralities: Competing and Converging Claims of Religious Heritage with Ernst van den Hemel and Irene Stengs for Berghahn Books.
The book tackles the question: what happens when religious sites, objects and practices become cultural heritage? What are —religious or secular—sources of expertise and authority that validate and regulate heritage sites, objects and practices? As cultural heritage becomes an increasingly popular and influential frame, these questions arise in diverse and challenging manners.
The question who controls, manages, and frames religious heritage, and how, arises with particular urgency, if only because in questions of religion the liberal state is supposed to take a backseat in the name of religious freedom, and in questions of heritage the state moves in to regulate and protect the same site, object or practice. In addition, both religion and heritage evoke sacralization processes, but in the case of cultural heritage of this is a form of secular sacralization.
Case studies from Denmark, the Netherlands, Poland, Portugal and the United Kingdom present an analysis of the paradoxes and challenges that arise when religious sites are transformed into heritage. The book is one of the outcomes of the European research project 'HERILIGION: Heritagization of Religion and the Sacralization of Heritage in Contemporary Europe' funded by Humanities in the European Research Area (HERA), that Oscar Salemink initiated.
--
Salemink co-authored with the other book editors the book 'Introduction: Management of Religion, Sacralization of Heritage', which elaborates the empirical and theoretical concept behind the book and the project as a whole. Together with Sofie Isager Ahl and Rasmus Rask Poulsen, former students at the department who were affiliated with the HERILIGION project, Salemink authored the chapter 'World-Heritagization, Bureaucratization, and Hybridization in Two Religious Heritage Sites in Denmark', which looks at the question what happens when churches in Jelling and Roskilde become UNESCO World Heritage sites and become subject to national and international heritage regulations.
--
Finally, Salemink wrote an 'Afterword. Heritage as Management of Sacralities'. Taking the shocking fire at the Notre-Dame de Paris in April 2019 as point of departure to discuss the findings offered in the ten chapters, he reflects on the tensions brought about by the religious and secular sacralizations brought about by the heritagization of religious sites, objects and practices, but also the eventual convergences.
The book is open access thanks to support from the Dutch Research Council (NWO) and the Meertens Institute in Amsterdam. Access the book here: https://www.berghahnbooks.com/title/VandenHemelManaging
Topics