7 June 2023
Transnational Street Business: Migrants in the Informal Urban Economy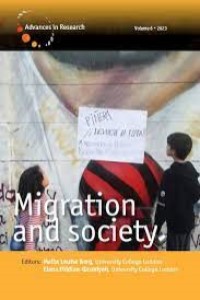 Guest researcher Camilla Ida Ravnbøl and Assistant Professors Anja Simonsen and Trine Mygind Korsby have co-edited a special issue of Migration & Society, entitled 'Transnational Street Business: Migrants in the Informal Urban Economy'.
In the Introduction to the special issue, Ravnbøl, Simonsen and Korsby propose the new concept of transnational street business in order to grasp transnational dynamics in the informal urban economy.
The concept encapsulates how migrants navigate in the informal urban economy of the streets, by entering and creating new business niches, for example revolving around the sale of information, goods and sexual services. The concept thus serves to explore how migrants rely on cross-border networks and movements of goods and people in constantly shifting political and legal contexts.
Through rich ethnographic examples from across the globe, the special issue sheds light on the business niches that emerge in direct response to migrants' need for mobility and attempts to generate livelihoods in new locations.
The articles of the special issue present novel insights into the various ways in which transnational migrants create livelihoods in informal urban economies, where local and transnational alliances and networks are intertwined and often interdependent.

The special issue is open access and can be found at Berghahn's website.
Topics